January Kid Readers Unite (KRU) book discussion of The View from the Very Best House in Town
Tuesday January 11 at 5:00 pm

-

6:00 pm
Sign up opens for this event Tues. 12/7, at 4:30 PM.
Kid Readers Unite book discussion (KRU) will be meeting IN PERSON in the library's Board Room on the 2nd floor on Tues, 1/11 @ 5 pm! ~Masks and distancing required~
Are you in Grades 4-6 and LOVE to read? Do you want to get a free book just for reading? Then KRU is for you!
Parents sign up your child to get a free advance reader copy (arc). Pick up this month's book from the second floor Kids Desk, read it, show up and participate in a fun discussion-and the book is yours to keep!
This month's title: The View from the Very Best House in Town by Meera Trehan
Program open to kids in Grades 4, 5, and 6.
Limited number of books available. Due to high demand, we ask that you come in to pick out your book within 5 days of registration.
How does this work:
1. Sign up for this event online. Sign up opens for this event Tues. 12/7, at 4:30 PM.
2. Pick up your book from the 2nd Floor Kid's Desk.
Library hours: Mon.-Thurs. 10-8:15 PM and Fri. – Sat. 10-4:45 PM.
No appointment needed.
3. Read the book, show up to the meeting, and you get to keep the book!*
*The rule is if you miss the meeting, you have to turn your book back in, to be fair.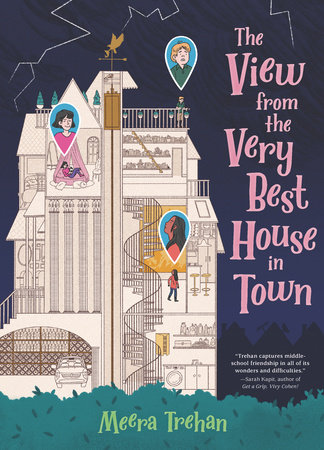 What is this book about?
This book combines the pleasures of a thriller, a school story, and a real estate listing in its witty and insightful exploration of what it means to be—and lose—a friend.
Sam and Asha. A perfect pair of friends whose differences complement well, and whose main similarity, autism, means they understand each other. They are a fixture, an established thing, just as Donnybrooke, the mansion that sits on the highest hill in Coreville, is the acknowledged best house in town—and Asha's dream home. But when Sam is accepted into elite Castleton Academy, leaving Asha to navigate public middle school alone, she begins to wonder if the things she is certain about are so fixed after all.
Related Events